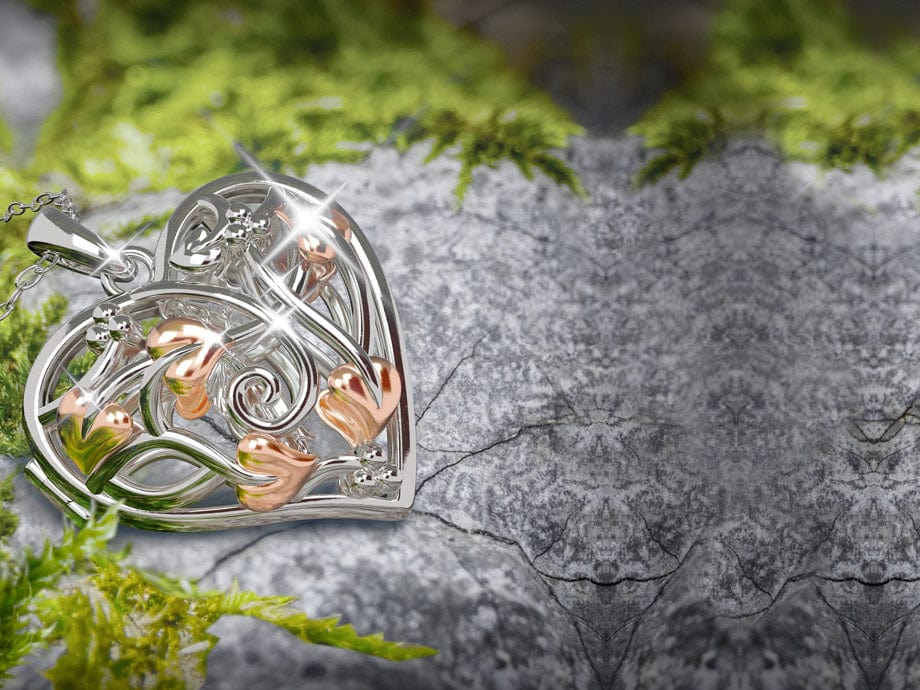 Our Jewellery
Original designs, unique heritage and a connection to Wales.
Since the very first piece, we have always believed in creating the most beautiful and unique jewellery containing rare Welsh gold.

For over 30 years, Clogau has been chosen to mark life's most precious moments, crafting beautiful and lasting reminders of the milestones that touch our lives.
Rare Welsh gold in each piece
Our jewellery is distinctive due to the majority of it being two-toned. Our pieces are usually either yellow gold with rose gold detailing, or sterling silver with rose gold detailing.

Within every piece of Clogau jewellery and watch is rare Welsh gold, which is typically included within the rose gold detailing.

Welsh gold is now one of the world's most precious and sought-after golds, and has been used by royalty since the investiture of Edward, Prince of Wales at Caernarfon Castle in 1911.

The regalia used (which consisted of a coronet, a rod, a ring, a sword and a robe or mantle with doublet and sash) included Welsh gold. These ceremonial items were employed again at Prince Charles's investiture at Caernarfon Castle in 1969.

Within each piece of our jewellery is the same Welsh gold used to craft the royal regalia, creating an esteemed and unique association with the British Royal Family.
Clogau is a true family business. Ben Roberts (right), son of founder Bill Roberts, is now Managing Director at Clogau.
Inspired by Wales
Staying true to our Welsh roots, our designers take much inspiration straight from our doorstep on the edges of Snowdonia in North Wales.

Home to one of the highest percentages of Welsh speakers in Wales, Snowdonia offers a rich tapestry of history, culture and natural beauty that is at the heart of Wales's national heritage.

No matter where you go, every hill, mountain and standing stone has a story to tell. Legends such the famous King Arthur, and the Mabinogion tales. The town of Beddgelert, which owes its name to the heart-rending tale of Prince Llywelyn and his dog Gelert, and the myths of the mountain Cader Idris wreath the landscape of this enchanting realm.

Alongside this is evidence of the area's human history dating back to prehistoric times, with Stone Age burial chambers, Roman forts, churches, castles, slate quarries and other industrial works.

And then there is Snowdonia's breathtaking natural beauty. Attracting millions of visitors each year, the area features a diverse range of wildlife, mountains, lakes, woodlands and valleys that produce some of the most stunning scenery in the British Isles.

Our love and passion for Wales' ancient history, mythology and wonderful natural scenery moves us to create the most stunning and unique jewellery.

Hand-Finished Excellence
Creating Clogau jewellery is an art that takes many hours of designing, painstaking craftsmanship, and quality control checks. Our skilled craftsmen produce each piece using traditional techniques that have stood the test of time.

When you hold and wear a piece of Clogau, you can see the love and dedication that our craftsmen have put into creating it.

Each piece is hand finished and then passes through a strict and thorough quality control procedure. This dedication to quality was instilled by founder William Roberts and continued by his son Ben, who is now our Managing Director.
Pictured below: Crafting a Clogau Ar Dan ring