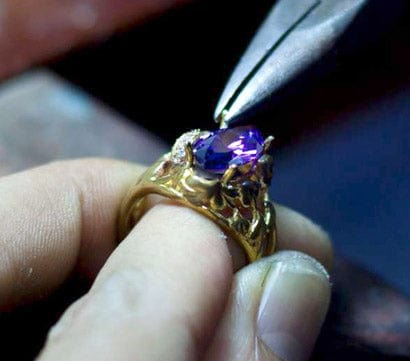 These are the policies and practices we use to ensure that our jewellery is ethical and consistently manufactured to the highest quality
Clogau is a company that prides itself on creating jewellery that is not only beautiful, but also expertly hand-finished to a high quality using ethically mined gold and conflict-free diamonds.

On this page we tell you where we mine our Welsh gold, our seven-stage quality control process, and the painstaking efforts and craftsmanship that are involved in every piece of Clogau jewellery.

We are also members of many highly esteemed associations that require strict procedures of ethical practice and quality control.
Where our Welsh gold comes from and how it was mined
Where does your Welsh gold come from?
The Welsh gold that goes into every piece of Clogau jewellery and every watch comes from a stockpile that was mined by ourselves during the late 1990s.
Why do you only include a small amount of Welsh gold?
Gold mining no longer takes place in Wales, making Welsh gold one of the rarest in the world. For this reason, we can only include a small amount of this exclusive gold in each piece. This allows our jewellery to be not only unique but also affordable to those who wish to own a piece of Welsh history of their own. It also ensures the longevity of our supplies.
Our fragrances are created with Arran Aromatics Ltd
Statement from our trusted partners Arran Aromatics Limited, in association with Clogau for our Compose by Clogau® scent.
Arran Aromatics Limited share the public's concern that animals should not be used to test cosmetics and toiletries products. It is Arran Aromatics Limited's policy to ensure that animal are not used to develop and test out products. None of our finished products have ever been tested on animals, nor have we ever commissioned out suppliers or any other company to carry out animal testing on our behalf.

Arran Aromatics Limited suppliers provide positive confirmation that they comply with our 1998 fixed cut-off date policy on animal testing for cosmetic purpose on all ingredients utilised in our cosmetics and toiletries products.

We produce all collections in-house on Arran, so have the flexibility to tailor products to meet our client's individual requirements.
Our jewellery is consistently hand-finished to the highest standard using conflict-free diamonds, ethically mined gold and a 7-stage quality control process.
Where Clogau jewellery is hand-finished
Originally, all Clogau jewellery was manufactured in North Wales, but in 2005 the decision was made to move production overseas in an attempt to fulfil customer demands for shorter manufacturing and delivery times, and to sustain the growth of the brand.

The change has meant that the costs to both customer and company have been reduced, and customers now receive their jewellery within 2-3 working days, instead of several weeks. It has also meant that we can keep up with the demand for Clogau jewellery on the high street and, increasingly, internationally.

The majority of Clogau jewellery is made up of multiple components due to the addition of Welsh gold (usually in the rose gold detailing), thus complicating the manufacturing process. A team of dedicated employees are responsible for creating jewellery of the utmost beauty and quality.
The quality and cut of our diamonds
The quality of Clogau diamonds are typically:
In silver items where the diamond is 0.49ct or under: SI1 (slightly included) clarity and G-H colour (near colourless)
In gold items where the diamond is 0.49ct or under: VS2-SI1 (very slightly to slightly included) clarity and G-H colour (near colourless)
Any diamond 0.5ct or more set in gold or silver: VS1 (very slight inclusions, not visible to the unaided eye) clarity and G-H colour (near colourless)
Clogau typically uses one of two cuts: the round "brilliant cut" which has been perfected to generate the maximum radiance possible and the most important cut of the modern era, the square "princess cut".
Our gold is ethically mined
Gold from the Clogau St David's Mine, and other Welsh gold, has been mined in an ethically sound manner. Within the majority of our jewellery, however, Welsh gold is combined with globally sourced gold.

As members of the Responsible Jewellery Council, we are committed to completing the compulsory member certification against the Code of Practices and the voluntary Chain of Custody standard, which is currently under development. The RJC aims to improve the transparency of the full jewellery supply chain; from mine to retail.
We use a 7-stage quality control process
"A trusted technique, hand-in-hand with an organised approach to the supply chain ensures that product quality is consistently high and low fault rates are maintained."
Ben Roberts, Managing Director.
The quality of construction, finish and methods used are under constant review and improvement, and are written into the Service Level Agreement for suppliers. The agreement covers manufacturing requirements such as high quality alloys to be used in the anti-tarnish casting grain and chain sourced from the UK.

A stringent 7-stage quality-control process is in place:
1. Porosity check on cast "tree"
2. 1st stage component 1 surface finish check
3. 1st stage component 2 surface finish check
4. Solder/laser check & pre-polish
5. Final surface polish check
6. Construction & size check
7. Final check

Improving logistics
Clogau is continuously striving to improve the logistical operations it undertakes. Recent developments have enabled international jewellery orders to travel on average 80% less distance to their destination, compared with the original journey.
Policies
We conform to the Kimberley Process and use conflict-free diamonds.

Kimberley Process
Clogau operates a zero-tolerance diamond policy and insists on written assurance from each diamond supplier that the diamonds supplied have been sourced from conflict-free countries and conforms to the terms of the Kimberley Process Certification Scheme.

Set up by governments, the international diamond industry and civil society organisations, the KPCS aims to stop the trade in "conflict diamonds" and ensure that diamond purchases do not fund violence.

Clogau warrants that with regards to any product fabricated from rough diamonds mined from 01/01/2003 onwards, that the diamonds have been purchased from legitimate sources not involved in funding conflict and are in compliance with United Nations Resolutions.

We guarantee that these diamonds are conflict-free, based on personal knowledge and/or written guarantees provided by the supplier of our diamonds.

For any product fabricated from rough diamonds mined prior to 01/01/2003, we warrant that conflict diamonds will not be knowingly sold and that, to the best of our ability, we will undertake reasonable measures to help prevent the sale of conflict diamonds in this country.
Nickel Policy
Clogau declares that all carat gold items we supply, and will continue to supply, conform to the 'Dangerous Substances and Preparations (Nickel) (Safety) Regulations 2005'.
We are members of several highly esteemed associations that guarantee the quality of our jewellery

Responsible Jewellery Council
"RJC Members are committed to promoting responsible, ethical, human rights, social and environmental practices throughout the industry in a transparent and accountable manner, from mine to retail. Their commitment aims to reinforce consumer and stakeholder confidence in jewellery products." RJC
Clogau is a member of the Responsible Jewellery Council, an international, not-for-profit organisation established to reinforce consumer confidence in the jewellery industry.

In association with the RJC, we are continuously defining and implementing responsible jewellery practices throughout our diamond and gold jewellery supply chain in order to further establish the RJC's vision of a 'community of confidence.
National Association of Jewellers
The National Association of Jewellers are the leading voice for the UK Jewellery industry, shaping the way for our 2,000 member companies employing 24,000 people. We protect, promote and prepare our members to make them Fit for the Future.

The Association was formed in 2015 through the unification of the British Jewellers' Association (BJA) and National Association of Goldsmiths (NAG). The Institute of Registered Valuers is also part of the NAJ family, comprised of around 100 professional valuers with formal qualifications and substantial experience. Every NAJ member is required to abide by the NAJ's Code of Conduct - based on honesty, integrity and professionalism.
Jewellery Distributors' Association
The Jewellery Distributors' Association is a non-profit-making trade body specialising in supporting the activities of those who wholesale, distribute, import and export precious and fashion jewellery. The JDA assist and advise Clogau on various aspects of business such as legislation.

Tax Free World Association
As a supplier of prestige products to the Duty Free and Travel Retail industry, Clogau benefits from a specialist recruitment service, industry research reports and news offered by the Tax Free World Association.
Institute of Direct Marketing
The Institute of Direct Marketing is internationally recognised as the leading professional body for the development of direct, data and digital marketing. An educational trust and registered charity, the IDM aids Clogau employees with lifelong learning and encourages business performance.
Institute of Directors
The Institute of Directors provides Clogau and its employees with business information, support and advice in order to raise standards at management level.
Wales Quality Centre
The Wales Quality Centre is a not-for-profit, membership organisation helping organisations across all sectors of the Welsh economy to develop, improve and grow their business through training and advisory services.

With the help of WQC, Clogau has been able to drive key business areas such as sustainability, creativity and new product development via a renewed focus on the need to promote innovation and business excellence.
Clogau is very proud to support Hope House Children's Hospices

Clogau has a long-standing relationship with local charity, Hope House Children's Hospices (Ty Gobaith, in Conwy) who provide respite, terminal care and support to life-limited children, young people and their families. The hospices rely almost completely on charitable donations to support their £4m a year service cost.

Clogau regularly fundraises for Hope House through annual fun runs, gala evenings and dedicated jewellery collections. We look forward to continuing to support the vital work of this charity, which is particularly close to our hearts.